02/11/2019
Corazon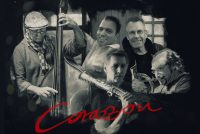 Recently, I've joined the Latin- & Funk-influenced Jazz-Fusion band Corazon from Hamburg, Germany.
The band playes original music, mainly somewhat Jeff Lorber-ish sounding compositions of the vivid musician and Keyboarder Hans-Hermann Bornscheuer.
And we are now advancing the material and going for some gigs in Hamburg and around.
Be prepared for intresting Quintett with electric piano, trumpet, saxophone, drumset and bass creating a unique micture between Jazz-Funk, Bossa and softer Fusion… (see Webpage)
UPDATE@2019, August:
At the SummerJazz 2019 festival in Pinneberg, we were awarded as one one the winning bands.
back