02/11/2019
Corazon (2019-2020)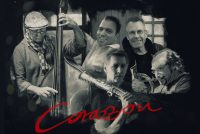 In 2019 and early 2020, I played the drums in the Latin- & Funk-influenced Jazz-Fusion band Corazon from Hamburg, Germany.
The band enjoyed original music, mainly somewhat Jeff Lorber-ish sounding compositions of the vivid musician and Keyboarder Hans-Hermann Bornscheuer. Definitively, an intresting Quintet with electric piano, trumpet, saxophone, drumset and bass that created a unique micture between Jazz-Funk, Bossa and softer Fusion.
At the SummerJazz 2019 festival in Pinneberg, we were awarded as one one the winning bands.
back