11/15/2020
New Fire Orange Music on the Way
Here is Echolot (Echo Sounder), a new balladic composition based on a repeating 3 bar form. As you can see in the video below Mario and I ended up home-recording a nice little preview.
Interestingly, that setup somewhat influenced our selection of sounds, now featuring a bit of percussion, customized samples from my V-Drum setup and a synthesizer as a temporary (!) replacement for the electrical guitar that we didn't have on hand.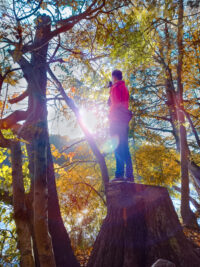 Then, Ludwig Graf Westarp created a corresponding text and supported the composition with his voice questioning who we are and where we go. This track is paving the way for four other original compositions (instrumentals) that we are going to present next year. So you can be curious.
Hopefully, you like the clip and music?! Of course, while the new video was recorded during lockdown times, it captures the atmosphere of loneliness we all experienced this summer. I put together several camcorder snippets from my previous home like a mosaic, as an expression of orientation and reorientation in a quarantine. It's like we can look back to how things were in the past and already know that it will never be quite the same in the future.
back