06/12/2016
Orchestra Project Weeks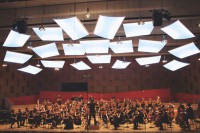 A little off the beaten track, in June I ended up playing two consecutive weekends with two different nice symphony orchestras in Hanover.
First, I played concerts featuring Mussorgsky's Pictures at an Exhibition with Hanover's renown JSO.
Then, a Sibelius piece and drums on Gershwin's Rapsody in Blue with Hanover's regional youth orchestra.
Check out the photograph below and make sure you get a chance to meet these nice orchestras for real – for instance the JSO at the Chopin Open Air in Hanover in August.
You know what, after these weeks a friend of mine was joking around and mentioned that I am becoming more and more a classical drummer.
Anyway, I enjoyed all the gigs – particular the Mussorgsky in the great NDR location. And Mussorgsky's Pictures at an Exhibition is really something I was digging from an early age.